Top Ten Tuesday is a weekly meme hosted by The Broke and the Bookish where bloggers are encouraged to post their own top ten list responses to the topic of the week.  This week's topic is:  Ten Books on my Fall TBR!  It is always exciting to plan out and share what books you are looking to read next, so without further ado here is my Fall TBR list!
1.)  Towers of Midnight and A Memory of Light, books 13 and 14 from The Wheel of Time – Robert Jordan and Brandon Sanderson.  This is a pretty significant personal milestone in my reading career because it was at the behest of a very close friend of mine that I start reading these books in the first place January of this year and I have finally reached the end and I am looking forward to seeing how this epic fantasy saga ends!
2.)  You're Never Weird on the Internet (Almost) – Felicia Day.  I have talked a bit before about my general geeky side and very briefly about my own experiences with the internet and the gaming communities as a female gamer, so it will be incredibly interesting to read about her own experiences with such things and her subsequent rise to fame.
3.)  The Girl in the Spider's Web, book 4 in Stieg Larsson's Millennium Series – David Lagercrantz.  This is going to be a very difficult read for me because I absolutely love the character Lisbeth Salander and want to read more about her, but the series is being continued by someone else which makes me extremely nervous – I am willing to give it a chance though and hope it is well done.
4.)  Jason and Dead Ice, books 23 and 24 in the Anita Blake: Vampire Hunter Series and A Shiver of Light, book 9 in the Merry Gentry Series – Laurell K. Hamilton.  These books are most definitely going to be my guilty pleasure reads for the fall, that is if I was one that felt guilty over pleasure and much like Jean Claude I most definitely do not.
5.)  A Court of Thorns and Roses – Sarah J. Maas.  I have heard such great things about this book and after reading Throne of Glass and experiencing the wonder that is Maas's writing, I am definitely willing to give this book a try.
6.)  Salem's Lot, The Shining, and Doctor Sleep (The Shining #2) – Stephen King.  Time to reveal a bit of a secret, while I am a huge fan of King because of The Dark Tower Saga, The Talisman/Black House, and 11/22/63: A Novel; I have actually not read very many of his novels in the grand scheme of things.  Everything that I have read from him has been in some way directly related to the Dark Tower.  Basically, it is about time that I actually read some of his other works and I figure that fall is the most perfect time to take up reading some of King's creepier novels!
7.)  The Phantom of the Opera – Gaston Leroux.  So, anyone that knows me from my high school days knows of my obsession with all things "Phantom of the Opera" – the music, the play, the movie, etc.  Yet, in all of this obsession I have never taken the time to read the book and think it is about time I actually do so.
8.)  Of Metal and Wishes and Of Dreams and Rust, books 1 and 2 of the Of Metal and Wishes Series – Sarah Fine.  Another reason for my interest in actually reading The Phantom of the Opera is because of these two books which I featured in a recent "Top Ten Tuesday" regarding Top Ten Fairy Tale Retellings I've Read/Want to Read.  I am very excited to read these two books!
9.)  Out of Oz, book 4 in The Wicked Years Series – Gregory Maguire.  I have had this book on my TBR list for far too long and I think that it is finally time that I finish the series.
10.)  Daughter of Smoke and Bone Trilogy – Laini Taylor.  I have been saying for so long that I am going to read this trilogy and just haven't picked it up because of other books.  I think it is finally time that I make time to read these books.
Honorable Mentions/Upcoming Reads:
11.)  The Lunar Chronicles – Marissa Meyer.  Hopefully I can read these three before Winter is released on November 10th.  Honestly, I am likely going to be cutting it close but I want to read them and read Winter!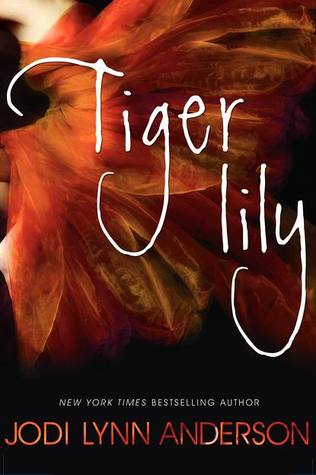 12.)  Tiger Lily – Jodi Lynn Anderson.  A book about my first Disney idol because she was the only female Disney character, at the time, that was relatively close to my appearance as a child.  I think this will be an interesting read just seeing someone's take on such a seemingly minor character.
13.)  The Looking Glass Wars – Frank Beddor.  Apparently I am just in the mood for some fairy tale retellings, looking at my list I have a good amount of them.  There's nothing wrong with that if you ask me!  My grandmother was originally the one who heard about this series and said it sounded like something I would enjoy, so I look forward to giving it a shot.
So this closes out my Top Ten (Plus Extras) Fall TBR List!  What are your Top Ten Fall TBR's?!  Do we have any of the same books?  Did you find a book on my list that you think you would like to read?  Share your thoughts on it!  Have you read a book/series I have listed?  Share your thoughts on it!  Post a Top Ten List of your own?  Leave me a link to your Top Ten Tuesday post in the comments below!  Don't have a blog, but want to share your Top Ten with me all the same?  Then feel free to list them in a comment below!  Until next time<3