Top Ten Tuesday is a weekly meme hosted by The Broke and the Bookish where bloggers are encouraged to post their own top ten list responses to the topic of the week.  This week's topic is: Ten Fairy Tale Retellings I've Read/Want To Read!  Fairy tales are such a huge part of literature and fiction, they are a staple and are seen as a tradition passed down from generation to generation.  This was especially true for me growing up, one of the very first books I received as a child was a collection of fairy tales from my great grandparents – I can remember reading from that book for hours at a time, rereading the stories over and over again.  There is just a certain magic to fairy tales and their retellings are just as special for invoking that childhood nostalgia.  Here is my list of Ten Fairy Tale Retellings  I've Read/Want to Read!
1.  The Lunar Chronicles Series by Marissa Meyer – Still on my TBR, hopefully I will get to read them before Winter is released this November!
2.  The Wicked Years Series by Gregory Maguire – I have read all of these except for the conclusion Out of Oz and have really enjoyed the story.  It has been a number of years since I read them, but there were so many events put into motion by the life and death of Elphaba that greatly change how you will perceive Dorthy's story.  I have seen a lot of flack given to these books because of their wordiness and slow plot line, but I still enjoy them overall and will likely read the entire series as a refresher when it comes time to read Out of Oz.  You can't mention Gregory Maguire without mentioning his other famous fairy tale retellings:
3.  Confessions of an Ugly Stepsister, Lost, and Mirror Mirror by Gregory Maguire – Confessions of an Ugly Stepsister is a retelling of a Cinderella from the point of view of one of her stepsisters.  Based on the synopsis, Lost touches on the real life inspiration for the character Ebeneezer Scrooge as well as Jack the Ripper.  Mirror Mirror is a retelling of Snow White.  I have only read Confessions of an Ugly Stepsister and that was some time ago, but I remember enjoying it and hopefully I will enjoy his other novels as well.
4.  The Looking Glass Wars by Frank Beddor – I have heard mixed reviews on this series, but I am intrigued by the concept and am likely to read them in the future.  Alice in Wonderland is such a classic story, so it will be interesting to see another author's take on the story.
5.  The Sleeper and the Spindle by Neil Gaiman – I have consistently mentioned how I have yet to read a Neil Gaiman book, though I have had his books recommended to me.  There just always seems to be some other book that comes up.  This book seems like an excellent starting place for getting a taste of Gaiman's writing style through his interpretation of a familiar fairy tale and is short enough that I can slip it in with the other books I am reading guilt free.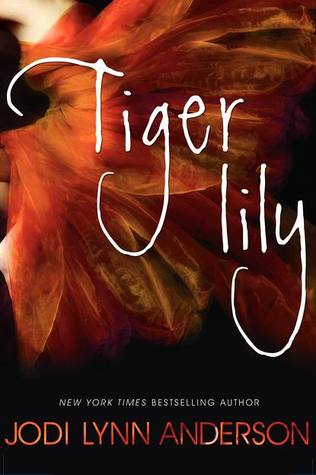 6.  Tiger Lily by Jodi Lynn Anderson – Fun fact, when I was younger (probably around the age of 8 to 10) I enjoyed watching Disney movies like any other child (though I still enjoy them now as an adult) but continually found myself disappointed in the fact that I didn't look like any of the characters.  Before Jasmine and Pocahontas appeared in all their dark-haired glory, the only Disney character I had to look up to was Tiger Lily, the tribal princess from Neverland who loved Peter Pan.  While searching for fairy tale retellings, I saw this one and instantly had to add it to my list because this is a story that I would read in a heart beat!
7.  Once Upon a Time Books from Simon & Schuster – These books were actually the first books to come to mind when I thought of fairy tale retellings because I can remember coming across them and having many of them on my Amazon Wishlist for a very long time.  Sadly, I haven't had the opportunity to read any of these novels though I am still interested in doing so.  Perhaps with some of the money from my new job I can look into remedying the situation.
8.  Of Metal and Wishes by Sarah Fine – I am not sure if this one exactly counts, it is a retelling of Gaston Leroux's The Phantom of the Opera, but I am going to list it anyways.  When I was in the 7th grade, I had the opportunity to see The Phantom of the Opera performed live on stage in San Francisco with my mother as part of a field trip the art and music departments did at my school.  To this day, that memory is still one of my most treasured ones and I fell in love with the story.  I am still obsessed with all things Phantom of the Opera, the story and the music and the movie even reading supposed sequels (I'm looking at you The Phantom of Manhattan, which still to this day leaves me with mixed feelings).  So, to find out that there is a retelling of the story is exciting and something I will look forward to reading.
9.  Scarlet by A. C. Gaughen – The story of Robin Hood and his band of merry men is a story which is very familiar and has been retold many times over by Hollywood.  In this rendition, the character Will Scarlet is actually a woman recruited by Robin Hood himself and it appears she now seeks to protect him and her fellow merry men from the likes of the sheriff of  Nottingham and the dangerous thief catcher he has hired to take them all down.  This is a story I would be willing to invest some time in.
10.  Speak Easy by Catherynne M. Valente – A retelling of "The Twelve Dancing Princesses" set during what would come to be known as the jazz age and if Zelda Fitzgerald was one of the princesses.  Right away, this already sounds like a pretty amazing fairy tale retelling.  I am a huge fan of the 1920's, I have always had a certain fondness for the music and the style of the time – I can only imagine what it would have been like to be alive at the time.  Then I remember the lack of cell phones and internet and think I am more situated to survival in modern times…Regardless, it looks to be a fascinating story.
 What are your Top Ten Fairy Tale Retellings?  Leave me a link to your Top Ten Tuesday post in the comments below!  Don't have a blog, but want to share your Top Ten with me all the same?  Then feel free to list them in a comment below!  Until next time<3