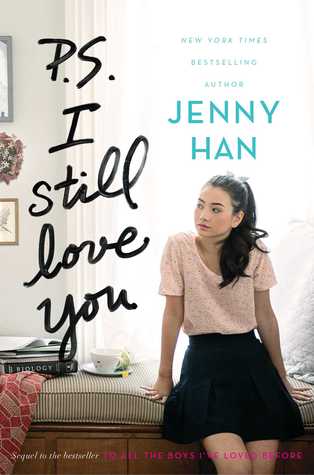 TITLE:  P.S. I Still Love You
SERIES:  To All the Boys I've Loved Before, book 2
AUTHOR:  Jenny Han
FORMAT:  Epub via Google Play Books
PAGES/LOCATIONS:  248 pages of story, 257 pages total
GOODREADS' AVG. RATING:  4.22 out of 5 stars; 16,691 ratings
SYNOPSIS PROVIDED:
Given the way love turned her heart in the New York Times bestselling To All The Boys I've Loved Before, which SLJ called a "lovely, lighthearted romance," it's no surprise that Laura Jean still has letters to write.

Lara Jean didn't expect to really fall for Peter.

She and Peter were just pretending. Except suddenly they weren't. Now Lara Jean is more confused than ever.

When another boy from her past returns to her life, Lara Jean's feelings for him return too. Can a girl be in love with two boys at once?

In this charming and heartfelt sequel to the New York Times bestseller To All the Boys I've Loved Before, we see first love through the eyes of the unforgettable Lara Jean. Love is never easy, but maybe that's part of makes it so amazing.
DATES READ:  July 15th-16th, 2015
MY REVIEW:
I know now that I don't want to love or be loved in half measures.  I want it all, and to have it all, you have to risk it all.~Lara Jean Song
Fun fact, I read To All the Boys I've Loved Before in about four hours and I actually did the same thing with P.S. I Still Love You – yeah, I was that invested in these novels which is definitely saying something for a non-contemporary reader such as myself (though I think I am going to work towards losing that qualifier).  I was talking to Anjie@Love Thy Shelf about my read through of P.S. I Still Love You, I was telling her about how I liked the book but didn't love it – whereas I loved To All the Boys I've Loved Before.  Perhaps my differing opinion stems from a stronger sense of intimacy in To All the Boys I've Loved Before due to the family oriented focus which is missing from P.S. I Still Love You.  In comparing the two novels, one of the major differences between them is that while To All the Boys I've Loved Before focuses on Lara Jean's relationship with her family, P.S. I Still Love You focuses on Lara Jean's friendships and how those relationships changed over time.    Relationships have the potential to change drastically over time, especially over the course of junior high and high school – just as with Genevieve and Lara Jean, your best friend forever can suddenly become a virtual stranger.  I think that this change of focus from family relationships to friendships made the book feel less intimate, which is why I didn't love it, yet I did enjoy the book overall.
This book's focus change to the history of Lara Jean, Peter, Genevieve, John Ambrose McClaren, etc. made for an interesting story line and exemplified my earlier point of how relationships can drastically change over time, but it also came across as immature.  Gen finally admitted to Lara Jean that the reason she stopped being her friend was because of the kiss between Lara Jean and Peter when they were in 7th grade, a kiss which had been initiated by Peter.  Gen held a grudge against her best friend for a kiss that wasn't her fault…this just felt idiotic to me.  If Gen had valued her friendship with Lara Jean at all, then she should have confronted Lara Jean about what happened instead of holding it against her for all of these years!  I admit, I have to keep reminding myself of the ages of these characters and the fact that they have very little experience in how to deal with personal issues between them, but this one just feels as if it is common sense to talk to the people involved before getting angry over it.  This is actually a point which could be applied to the relationship between Lara Jean and Peter as well.
I went into this novel thinking that it was going to focus on the relationship between Lara Jean and Peter.  I thought that Lara Jean and Peter were going to get back together and they were going to learn what it meant to be a real couple, they would no longer be able to hide behind their contract and would learn what it meant to open up to someone else.  They were unable to do this though, Lara Jean didn't trust Peter because he wouldn't open up to her and their relationship ended up spiraling out of control and this spiral was only exacerbated by Peter helping Genevieve through her problems and John Ambrose McClaren writing back to Lara Jean.  Knowing the group's history, knowing that everyone thought it would be Gen+Peter and Lara Jean+John made their reunion all the more interesting.  I liked John Ambrose McClaren, he was so open and honest about his feelings towards Lara Jean in both the past and the present yet never attempted to push her to feel the same way.  John Ambrose McClaren who was able to just say, "I don't think it was our time then.  I guess it isn't now, either.  But one day maybe it will be."  I don't know, I flip flop a lot regarding their relationship because at times it feels forced yet at times it feels natural – I can see how had circumstances been different Lara Jean could have ended up with John Ambrose McClaren and found happiness.  Lara Jean sums it up very nicely when she says, "So much of love is chance.  There's something scary and wonderful about that," and she is right.
TL;DR REVIEW:  4.00 out of 5 stars.  As I have already said, I enjoyed this book but I didn't love it.  I had too much difficulty getting into the junior high grudge hold and the high school drama that developed from that.  I admit, this is very likely due to my age and the fact that I likely fall outside the age range for the target audience, but even when I was that age I couldn't stand high school drama.  Either way, this book was an okay sequel and I hope that Jenny Han will fulfill our wish by giving us another book which will focus more on Lara Jean and Peter's relationship and what it means to fully trust each other in a relationship.