Top Ten Tuesday is a weekly meme hosted by The Broke the Bookish where bloggers are encouraged to post their own top ten list responses to the topic of the week.  This week's topic is: Freebie – aka a topic of my choosing!  Since I wasn't participating in this meme at the time of this topic's introduction, I have chosen to post about my:
My Top Ten Childhood Favorites.
1.  Sideways Stories from Wayside School Series by Louis Sachar
I read this book in 4th grade and can still remember some of the hilarious incidents that occurred inside this crazy looking school – be sure to remember, there is no 13th floor!
2.  The Animorphs Series by Katherine Applegate
I started reading these books when I was in elementary school, can't remember what grade specifically, and I continued to read them until I started high school.  I think the last book I read was the 18th book in the series, finding out there are now 54 books in total is just crazy!  Perhaps I will look into re-reading/finishing it in the future.
3.  The Lion, the Witch and the Wardrobe by C. S. Lewis
This book was assigned reading in 6th grade, but I remember loving the story and falling in love with the land of Narnia.  I plan to sit down and read the series from beginning to end again, perhaps when my daughter receives this book as assigned reading in school we can read them together.
4.  Island of the Blue Dolphins and Zia by Scott O'Dell
I read Island of the Blue Dolphins as part of my assigned reading either in late elementary school or early junior high and I remember having nothing but positive thoughts about the story and was excited when I later found the sequel, Zia.  Perhaps as an adult it wouldn't have the same impact on me, but it will always have a special place in my memories.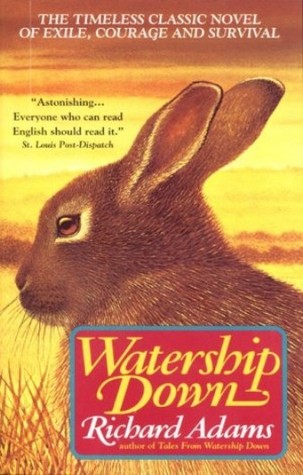 5.  Watership Down by Richard Adams
I remember picking this book up at a bookstore in the mall with my family one evening.  At the time, my younger sister had an obsession with toy stuffed rabbits and anytime we went shopping she would find one and ask our grandfather for it – her specific line was, "One more bunny."  I think I had planned on reading it with her since its characters happened to be rabbits, but it never worked out.  I still read it because I was obsessed with books even when young, yet I still always think of my younger sister when I remember this book.
6.  Matilda by Roald Dahl
Matilda, seriously holds an incredibly special place in my heart and it always will.  When I was growing up I felt able to relate to the character of Matilda because I was the little girl who was always reading and considered to be incredibly intelligent.  This story is even more special to me now since my daughter (who is very much my clone) has read the book multiple times and we recently watched the movie together – there is nothing more special than being able to share a story you love with your children.
7.  Where the Sidewalk Ends by Shel Silverstein
My seventh grade experience was incredibly transitory, I had moved from the suburbs of Chicago to an even smaller town in northern California and attended a "country" school which educated children from pre-school until 8th grade.  It was a very odd experience and incredibly different than what I had been expecting to experience for my introduction to junior high.  One of my favorite memories of this year involved learning poetry in our English class and this book was one of the examples we studied.  Each group was challenged to see who could produce an individual who could read one of the poems the fastest, my reading of "Sarah Cynthia Sylvia Stout" was the fastest in the class.  This book of children's poetry will always hold a soft spot for me, and I can still read that poem like nobody's business.
8.  Pippi Longstocking by Astrid Lindgren
I will be honest, I may not remember much of the story of Pippi Longstocking but what I do remember of the story is coming away with an understanding that it was okay to be who you are, regardless of how weird or different others perceive you to be – it is important to remain true to yourself and who you are.  I don't think I could have put it so eloquently as a child, but I remember that I came away from this book with a little bit more confidence in knowing who I was and recognizing that what I had thought of as weaknesses in being different were actually my strengths.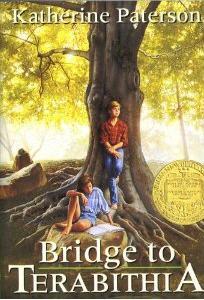 9.  Bridge to Terabithia by Katherine Paterson
I read Bridge to Terabithia as assigned reading in elementary school and at the time that I read it I don't think I necessarily understood just how powerful this book actually is.  This book teaches children about the power of creativity and imagination, how we can create entire worlds and creatures just by thinking of them – this is a novel which basically is teaching children how to be writers.  Granted, I didn't understand that point when I was younger but thinking on it now I can see just how Jess and Leslie help to teach other kids the power of creativity.  At the time, I remember coming away from this novel with an understanding of what loss and grief are – I knew what death was, but I didn't understand what it was I should be feeling at the end of someone else's life.  This book helped me to understand what it meant to feel a loss and grieve.
10.  Mr. Popper's Penguins by Richard Atwater
If my younger sister's stuffed animal obsession was bunnies, then mine was (and still is) most definitely penguins.  The fact that the penguins dominated this story and made for an incredibly funny progression of events for Mr. Popper made it all the better.  I loved this book in 4th grade and I though I haven't read it in a very long time, honestly probably since then, I will always adore this book.
What childhood books would be on your Tuesday Top Ten?  – Tell me in the comments!
What subject did you choose for your Tuesday Top Ten Freebie?  – Feel free to share a link to your Tuesday Top Ten post in the comments!
With love,