Melanie's Want to Read Wednesday #13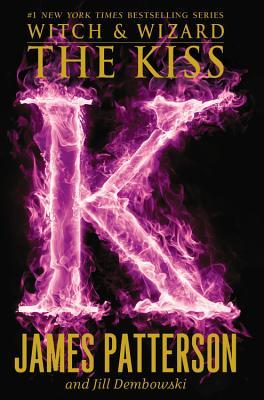 TITLE:  The Kiss and The Lost
AUTHOR:  James Patterson
SERIES:  Witch and Wizard, books 4 and 5
GOODREADS' AVG. RATING:
The Kiss – 3.89 out of 5 stars; 3,709 ratings
The Lost – 3.91 out of 5 stars; 216 ratings
SYNOPSIS PROVIDED:
The Kiss
James Patterson delivers what the fans have been asking for–the story of what happens next–with an epic fourth installment about the heroic teen witch and wizard that have captured our imaginations.
Whit and Wisty Allgood have finally triumphed over the evil that has long overshadowed their world with their defeat of The One Who Is The One. Now they move on to their next mission: becoming members of a governing Council that will return the Overworld to a place of creativity, magic, and freedom from persecution.

But it isn't long before the city is threatened from inside and out. The adults on the Council want to control the use of magic in the city, and a fearsome Wizard King threatens war. As Wisty begins a new relationship with an intense and mysterious boy and the pressures of leading the city bear down on them, Whit and Wisty find themselves growing apart. Will they be able to come together to fight the mounting threats that could return their world to the hands of a tyrant?
The Lost
It's Witch versus Wizard this time, in the fifth and final installment of James Patterson's bestselling magical series!

Whit and Wisty Allgood have fought and defeated their world's most pernicious threats: the evil dictator, The One Who Is The One, as well as his wicked father and son. But just as the heroic witch and wizard start to settle into their new roles in governance, a deadly crime wave grips their city, with all signs pointing to a magical mastermind every bit as powerful and heartless as The One. Now the siblings find themselves persecuted as the city turns against all magic users, and questioning everything, including each other–and, for the first time, their abilities. Can they confront the citizens' growing hostility and their own doubts in time to face the new enemy barreling toward their gates?

James Patterson brings the Witch & Wizard saga to a head by exposing the nature of power-and what it means for the heroes that have it.
WHY I WANT TO READ IT:
My dear followers, I believe it is time for me to come forward and be honest with you – I am kind of a James Patterson nerd.  I have mentioned this before on my "About" page and in other posts on and off since I started blogging that I have read some of his work, though if I am going to be truly honest I haven't read nearly as much of it as I would like.  I got into James Patterson's work through my mom, who started reading his novels when I was in high school.  It became this system where she would buy a bunch of his books and then when she was done with them, she would pass them on to me to read.  This was how I ended up reading quite a few of his books, most notably this was how I read the first four novels in his Women's Murder Club series – yeah, I know I am now way behind on this series and am in desperate need of reading the books in the future.  Anyways, I eventually found out that Patterson had also written young adult novels – novels which I figured I would find to be even more interesting to me given my age at the time.  This was how I came across the Maximum Ride series and eventually Witch and Wizard.
I read the first three novels of Witch and Wizard again a few years ago actually, and in that time since I finished them he has released these two novels where we will experience the conclusion of the story of Whit and Wisty Allgood.  I admit to being an individual who can't stand an unfinished story, like most of my fellow bibliophiles, I can't stand the time in-between book installments.  This is why I typically won't read a book series until it has been completed.  Patterson is notorious for doing this though, from what I recall he had originally stated that Witch and Wizard was going to end as a trilogy – but somehow, lo and behold he ended up releasing two more novels in the series!  Now don't get me wrong, I am excited for the new reading material and a (hopefully) more fitting conclusion to the story of the Allgoods.  Yet, I am left wondering what exactly is left to be said?
Mostly, I want to read these books for sheer curiosity's sake.  I want to see how Whit and Wisty's world has changed since the defeat of The One Who is the One and how their characters have changed since then as well, I want to see how they have grown and how they have come to understand what it means to have power – not just magically but also in a leadership capacity and what it means to be responsible and accountable for your actions.
What is your Want to Read Wednesday?!  I would love to hear about them in the comments below!