Melanie's Want to Read Wednesday #2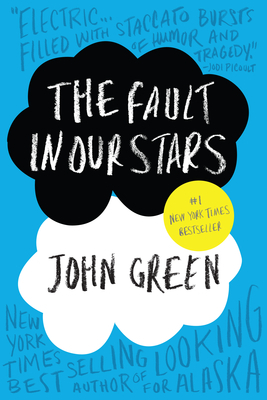 TITLE:  The Fault in Our Stars
AUTHOR:  John Green
GOODREADS' AVG. RATING:  4.44 out of 5 stars; 1,110,745 ratings
SYNOPSIS PROVIDED:
Despite the tumor-shrinking medical miracle that has bought her a few years, Hazel has never been anything but terminal, her final chapter inscribed upon diagnosis. But when a gorgeous plot twist named Augustus Waters suddenly appears at Cancer Kid Support Group, Hazel's story is about to be completely rewritten.
WHY I WANT TO READ IT:
I have been running my Tumblr book blog, My Bibliophile Side, for a little over a year now and I recall the sheer amount of hype surrounding John Green's novel The Fault in Our Stars.  You were unable to be a part of the book blog community without seeing multiple posts referencing this title over the course of the day.  This novel has received many mixed receptions and reviews due to the nature of the subject material; its focus on teenagers who are terminally ill…it is a tough pill to swallow, and yet…I can see a certain beauty in it.  The truth is that we as human beings on an individual level have a certain fear of death, a fear of the unknown after this life.  Some fear death to the point where they forget to experience all that life has to offer, instead, they allow their impending death to consume them.  From what I know of this novel, I feel that this is an idea which Green does well to express through his characters; the idea of not allowing the knowledge of your own coming demise to get in the way of living a life that has meaning.
So, why would I want to read a novel which I know is on such a grim and sad subject?  I am an individual who has gone through a great amount of my own pain in life; some at the hands of others and some by my own hand.  I do not deny this nor do I attempt hide it; rather, I am incredibly candid in regards to my own personal strife.  As such, I have a certain interest in novels which focus upon overcoming our personal adversities in order to find a greater strength within.  Hazel appears to be a character who understands a great deal about grief, loss, pain, and yet…I believe that somewhere within her is also a character which has a love or thirst for life waiting to be realized.  After all, in some capacity doesn't every girl who falls in love gain that thirst?
I am also interested in reading this novel because it was recently released as a movie this summer.  I have made it a point over the course of my book blogging to pay attention to books which become movies because I find satisfaction in analyzing the work.  I enjoy writing up comparisons of the material in both formats; i.e. book versus movie, and thereby examining the two for their similarities, their differences, and how the different media format either enhanced or harmed the story.  I have had discussions of this very nature for novels in the past which became movies, such as:  Tolkien's The Lord of the Rings series, Suzanne Collins's The Hunger Games (specific examples were used for this article, which can be found here), Stephenie Meyer's Twilight Saga, and multiple others though not all of these past discussions have been typed out.  Many of these discussions have honestly come as friendly chats among myself and friends!
I recently added this book to my "To be Read" shelf on Goodreads, next will be purchasing a copy of it, then reading, and movie watching.  I look forward to it and sharing the experience with you!