Top Ten Tuesday is a weekly meme hosted by The Broke and the Bookish where bloggers are encouraged to post their own top ten list responses to the topic of the week.  This week's topic is: Top Ten Best Books I Read In 2015!  This is actually a super fun Top Ten Tuesday post/topic for me because last week I completed my 2015 Goodreads Reading Challenge and am continuing to add more books to it because I just can't help but continue reading, lol!  So without further ado, I am excited to share with you my favorite reads from 2015!
1.)  Ready Player One by Ernest Cline
I still can't properly express in words just how much I enjoyed this book.  I loved the story, the critical looks at the impact of anonymity on the Internet, and the overall homage to the world of geek culture and video games found in this book.  It was such a great, fun read that I really enjoyed.  It was also my first audio book experience and I absolutely loved Wil Wheaton's narration of the story, it made it just that much better!
2.)  You're Never Weird on the Internet (almost) by Felicia Day
You can't be a part of geek and video game culture without having heard of Felicia Day.  It was incredibly interesting to read about her life growing up and her thoughts regarding her sudden rise to fame.  I loved how honest she was about anxiety and how she has had to deal with it over the years.  I have such a huge amount of respect and admiration for Felicia Day because she made a career out of things that she was passionate about and that is something that many of us only dream of doing.  Her memoir was a super quick, fun, and real read that I will find myself remembering fondly.
3.)  The Night Circus by Erin Morgenstern
I admit, this book is a reread for me but it has become one of my favorite stories of love, magic, and mystery in recent years.  Each time I have read this book I am left feeling reinvigorated and filled with an even deeper appreciation for books, stories, and the written word.  Anytime that I feel myself falling into a reading slump this book is able to snap me right out of it and I will always love it for that.
4.)  The Shining by Stephen King
This was a read that I had been planning and somewhat putting off for a long time because I am not the biggest fan of horror though I consider myself to be a fan of the works of Stephen King (The Dark Tower and 11/22/63, being my favorites).  After the release of Doctor Sleep (see below) last year, I made the decision that I was going to finally read The Shining and follow up with its sequel and I am so so so happy that I did.  I really enjoyed reading the devolution of John Torrance over the course of the book and found this to be more creepy than scary, definitely a worthwhile read.
5.)  Doctor Sleep by Stephen King
Following in the same vein, Doctor Sleep was an amazing sequel to The Shining!  I enjoyed following the story of Danny (Dan) Torrance's life after the events at the Overlook and seeing the person that he became.  Overcoming his faults and learning to accept his abilities and help someone else grow into their own.  It was fascinating to watch as the student became the teacher.  It was a very fulfilling read and as I said, a great sequel.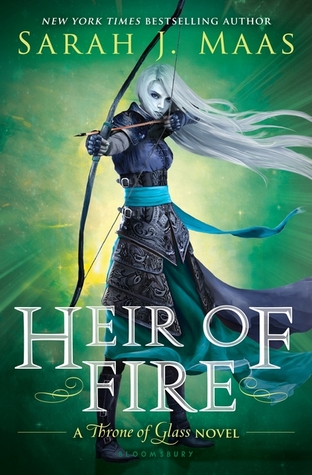 6.)  Heir of Fire by Sarah J. Maas
This year, I finally hopped on the bandwagon and took the time to read Sarah J. Maas's Throne of Glass Series and can't believe I hadn't read it sooner.  My favorite book in the series was definitely Heir of Fire because of its pure, raw emotion as Celaena Sardothien found herself and was ultimately reborn as Aelin Ashryver Galathynius.  This book explored the ideas of depression and grief without shying away from them.  The emotions were dealt with in a very honest and real way without shying away from the darker aspects of them.  It was a beautiful and heart wrenching book because of that realism and I will always appreciate the brutal honesty.
7.)  A Memory of Light by Robert Jordan and Brandon Sanderson
This book was the conclusion to an epic year long read through for me and it was a journey that I truly enjoyed.  Wheel of Time is a series that is truly worthy of its title as an epic fantasy saga and is a story that I am sure will stay with me.  It really is a tale of self discovery, finding your place in the world, and learning to accept said place and what it entails.  I can't help but remember this series fondly and appreciate that my friend Kyle suggested it to me.
8.)  Inferno by Dan Brown
I have previously expressed my dislike of the somewhat repetitive themes of betrayal found within Brown's Robert Langdon Series, basically a similar story that had a different subject and setting.  I read Inferno at the beginning of the year and found myself enjoying it because of the central theme regarding Dante's Divine Comedy.  I haven't actually read Dante's work, but I am always fascinated by stories depicting ideas of heaven and hell, angels and devils.  Inferno was a good book and a good installment in Langdon's story.
9.)  To All the Boys I've Loved Before by Jenny Han
I absolutely loved this book because I really appreciated the focus on the idea of the importance of family.  It is true that a great deal of the story does focus on the relationship between Lara Jean and Peter, but I felt myself drawn more to the relationship between Lara Jean and her sisters.  The relationships between Lara Jean and her sisters change after eldest sister Margot goes abroad for college and youngest Kitty sends out all of Lara Jean's love letters in a moment of anger.  Lara Jean truly grows into herself as a sister and on an individual level because of her letters getting out and the ensuing relationship she has with Peter.  It really was a cute, quick, contemporary read.
10.)  Daughter of Smoke and Bone by Laini Taylor
I just finished this book last week and fell absolutely in love with the writing style.  Laini Taylor's storytelling is beautiful, lyrical, and magical.  She brings Karou's story to life in such a way that you find yourself devouring page after page of it and left wanting more.  I have found Karou's story to be a beautiful love story that is truly defined by the idea of hope for a better future.  I am super excited to finish the series, hopefully before the end of the month/year!
 What are your Top Ten Best Books Read In 2015?  Leave me a link to your Top Ten Tuesday post in the comments below!  Don't have a blog, but want to share your Top Ten with me all the same?  Then feel free to list them in a comment below!  Until next time<3